IN ANY LANGUAGE – IT'S A CLASSIC
Arroz con Pollo, or Chicken and Yellow Rice, is a staple of Spanish cuisine, and can be particularly easy if you have everything in place before you start cooking it. The recipe from Clarita's Cocina, is fantastic, and only made better by the changes I have made – which sounds relatively egotistical. But that's how I am about this recipe.
I have added chorizos, and use bite sized chicken pieces, and a particular brand of saffron flavoring that mi Madre used, and tastes so familiar that I wonder if the Spanish restaurants in Tampa, where I first had this, use it too. One day I will use pure saffron. But it tastes so delicious this way, so why change?
I bought the saffron packets quite a few years ago, and perhaps they are beyond their "best by" date. But, perhaps also, they are like the yeast that I keep in the freezer, that expired two years ago, but still makes perfectly good bread. I haven't died yet, anyway.
SLICE, DICE, CHOP, COOK
The steps here are simple. Dice the onion, and green pepper, and set aside. Dice the tomato, and garlic, and put them into a bowl with the hot sauce, lemon juice, bay leaf, and salt. Sauté the Chorizos for a minute in some olive oil and remove them from the pan. Put the onions and green pepper in there, and sauté them until they are transparent, toss the chorizos back in the pot stir it around, and then dump that bowl of tomatoes and stuff in the pan and cook it on medium heat until it's mushy. That takes about five minutes, and you need to stir it every now and again.
While it's cooking, put a cup of chicken broth in the microwave, or a pot, if you're going to be totally old school about it. It's going to need to be a container that's bigger than a cup, though, because after you heat it up a little (maybe a minute in the microwave), you're going to stir in that packet of saffron, (or the real thing if you could find it and didn't pass out in the store looking at the price), and then add 1⁄4 cup of white wine and stir. Other people use Bijol, instead of the Vigo that I use.
When the tomato mixture in the pan is all mushy, pour in that saffron/ broth/wine mixture, a sprig of parsley that probably makes no difference whatsoever, and then the chicken pieces – stirring them around a little. Then add the rice, and the rest of the chicken broth and stir it all up like crazy once again. By now you will have realized that this needs to be done in a BIG pot, and you will probably be looking for one to pour it all into. Like, a soup pot. But the next time you will start with that, instead of thinking you can do it all in a large frying pan.
Once it comes to a boil, cover it and turn it down. Way down. It needs to simmer but not boil over. If it boils over, your rice will end up not being done enough, and your stove will be a mess, and you will be cursing in front of the children. Sometimes I cock the top of the pot for a little bit, until it simmers down (no pun intended). But it's the steam that cooks the rice, so you don't want it all to escape.
Then you cook it for I don't know how long. I think it's about 20 minutes. That's how we cook around here. It probably depends on the pot you have it in. I just taste the rice and see when it's the right texture, and when the broth has mostly been absorbed. Even if the rice is a little mushy, or it's still a little wet when it's done, it's so damn good, you're not going to mind.
When it's finished, you move it off the burner, and open up that large can of LeSeur peas (petit pois, I recall them being called before they were dumbed down so that people would buy them). You need those peas. Really. They're little. You can handle it. And the recipe calls for 1⁄4 cup. I use two small cans, or one large can, because appearance is important, and you want some left over, for the left overs. So you open up that can of peas, drain it, and then pour them all over the top – spreading them evenly with your impeccably clean hand, as Julia Child used to say.
Then open and drain one or two small jars of sliced pimentos, and toss those aesthetically over the top, some here, some there, so that you have a pretty dish to show the guests. Sprinkle that chopped up parsley on top as well. You can then drizzle some of that white wine over it, if you like. Hell, why not.
And there you have it. All in one pot, and while it was cooking you were cleaning up the kitchen, so life is sweet, and everybody is happy.
---
Print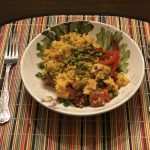 CHICKEN AND YELLOW RICE
---
Description
An amazingly easy, and impressive version of Arroz con Pollo, that will keep people asking for more.
---
2

Lg. Chicken Breasts, cut into bite sized pieces 

1⁄2 cup

Olive Oil


2

–

4

 Chorizos, sliced into rounds 

1

Medium Onion, finely chopped


1⁄2

Medium Green Pepper, finely chopped


1

Lg. Tomato, diced but not necessarily seeded and peeled because its a pain in the neck


2

Garlic Cloves, minced


1 Teaspoon

Lemon Juice


1

Bay Leaf


1 Tablespoon

Salt


1⁄4 Teaspoon

Tabasco


1

Envelope Vigo Seasoning


1 Cup

hot Chicken Broth


1⁄4 Cup

dry White Wine


2

1⁄4 Cups More Chicken Broth


1

Sprig of Parsley


2 Cups

Long Grain Rice


1

Large Can of LeSueur Peas


1

Small Jar of Pimiento Slices

Dry White Wine

Chopped Parsley
---
Instructions
Saute chorizo slices in olive oil for a minute or two 

Remove from pan 

Add onions, and green peppers and saute until transparent 

Add back in the chorizos 

Add tomato, garlic, lemon juice, bay leaf, salt and tabasco. Mix well and 
cook until mushy. 

Dissolve the Vigo seasoning in the 1 heated cup of chicken broth and 
combine it with the wine. 

Pour into the pan and add the sprig of parsley and stir well. 

Add the Chicken and rice and mix throughly. 

Add the 2 1⁄4 cups of chicken broth, stir once and bring to a boil. 

Lower the heat, cover and simmer until done, about twenty minutes. 

Remove top, pour peas over top, and sprinkle pimientos on top. Then sprinkle chopped parsley on top as well, for good measure. 

If you like, sprinkle a little of the white wine on top. 
Prep Time:

1/2 Hr.

Cook Time:

20-30 Minutes

Category:

Chicken

Cuisine:

Spanish