A SOUP YOU WON'T FORGET
Are you looking for a simple soup that whispers sophistication? You found it.
How about just something damn good to eat? Yep. You found it. It's Avgolemono – a silky Greek lemon and egg soup.
Maybe lemon and egg soup doesn't sound so appealing, but for a fact it is, and we're gonna make it together so that we can both have some. Send me a bowl of yours as soon as it's done. I can't wait.
This recipe was found in a little $1.00 touristy cookbook pamphlet sold at Louis Pappas' Restaurant, in Tarpon Springs, Florida, back in the late 50's. Louis Pappas was famous for his Greek Salad, and his restaurant was right on the edge of the sponge docks. So, after you ate your giant Pappas Greek Salad, you could go pay a few dollars, and a sponge diver would dive down to the bottom of the river and bring you up a sponge, that you could then take home and bathe in luxury with. We had quite a few of those sponges, and the memory of Louis Pappas is strong in my mind.
GREEK SALADS AND SPONGE DIVERS
Louis Pappas built that Greek Salad into something that he could retire on, and his family took over the restaurant and eventually sold it. Pappas Restaurants exist elsewhere now, but no longer in Tarpon Springs. That property is being developed into something else, and as of a few years ago the property was being listed for over $7 million. So, there you go.
But, while I love a Greek Salad, Avgolemono is absolute manna from the gods, not to mix up religions and mythology too severely. So, that's the recipe I chose.
NO, I'M NOT BOILING A CHICKEN
Louis Pappas' recipe, tells me to boil a 3 lb. stewing chicken for 2 hours in 3 quarts of water. Well, that ain't happening. I used three quarts of Swanson Chicken Broth, which America's Test Kitchen says is their favorite, and I omitted the salt. Yes, as usual, I made some changes to suit my tastes. The avgolemono that I remember liking the best was thick and contained orzo. Many recipes call for rice. I like the orzo, but the starch in the rice thickens the soup better, so I decided on using half rice, and half orzo, and increased the amount just a tad. Problem solved. Upon finishing, I found that this recipe didn't have quite enough lemony zing for me, so I added half more lemon juice than it called for. 3/4 of a cup was the Goldilocks amount of lemon juice. Enough to make you taste it, but not enough to make you pucker. It was just right.
And while many recipes call for chicken to be added to the recipe, this one didn't. It suggested giblets. Well, I'm not a giblets person, but to each his own. Those little bites of chicken, however, do add a satisfying texture and flavor boost to the soup. So I baked a chicken breast for half an hour, diced it up and added it to the soup at the end. Perfection in a bowl.
THE MAKING OF THE MIRACLE
To make this soup you, cook a chicken breast, dice it up. Get your chicken broth boiling, and add the rice and orzo. Stir a few times and let simmer for about 20 minutes or so.
Meanwhile, beat the eggs with a little water until light. Add the lemon juice and beat a little more. When the 20 minute timer goes off, take the soup o! the heat, and slowly drizzle the four cups of hot soup into the egg mixture, whisking like a whirling dervish the entire time, to ensure the eggs don't cook. After a couple of cups you can pour in with more abandon.
Put all of this back in the pot, add the chicken, and stir to mix thoroughly.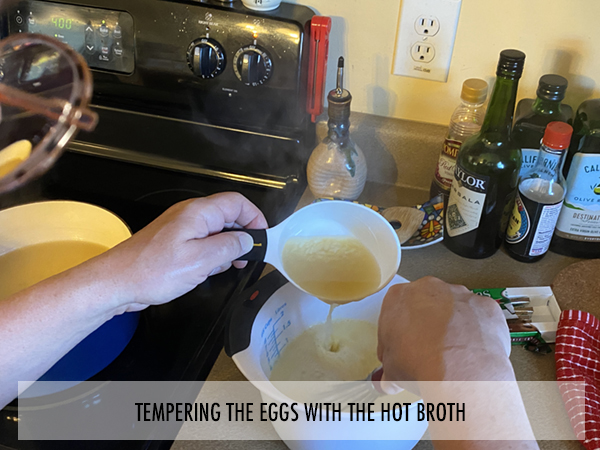 Do not boil this soup again after you have added the eggs. You can reheat it the next day, just not to the boil. Eggs don't act kindly to people who do that.
AND IN THE END…
You are going to love this soup. It makes a wonderful first course, or a lunch. It's light, it's bright, and it takes you straight to the Greek Isles.
But be sure to make enough for leftovers because you are definitely gonna be scrounging around the fridge for it the next day.
Enjoy it, and let us know what you think.
Print
LOUIS PAPPAS' LEMONY AVGOLEMONO SOUP
---
Description
A silky, and elegant lemon, rice and orzo soup which makes a great beginner.
---
3 quart

boxes of Swanson Chicken Broth 

1⁄2 cup

rice


1⁄2 cup

orzo


4

eggs 

1 tablespoon

water


3/4 cup

lemon juice


1

chicken breast, cooked and diced. 
---
Instructions
Preheat the oven to 400 degrees.
Place the chicken breast in a Pyrex dish, or other baking dish, cover 
with parchment, and bake for about 30 minutes, or until cooked 
through. 

Remove from the oven, let cool, and dice. 

While it's cooking you can do the rest of this stuff. 

Bring the chicken broth to a boil in a large pot, and add the rice and 
orzo. (You can use all rice if you like, or all orzo, but using at least 1⁄2 rice 
will help thicken the soup.) 

Stir a few times to ensure the rice doesn't stick to the bottom of the 
pot, and let boil for about 20 minutes. Remove from the heat, and let 
sit for a minute or two to cool slightly. 

While that is happening, crack the eggs into a mixing bowl, and whisk 
them with the tablespoon of water until they are very light. Then add the lemon juice, whisking once again until it is a lovely light yellow mixture. 

VERY SLOWLY, add four cups of the hot broth to the egg mixture, whisking the entire time. You don't want to cook the eggs, so you "temper" them by adding the hot liquid gradually and going to town on it with the whisk. You want a silky texture to the soup, and you aren't going to boil it again at this point. 

Add the diced chicken to the soup, and serve in a bowl with a spoon. Nothing else is needed. Avgolemono makes a great beginning to any meal. 

This soup is great the next day. Just be sure not to bring it to the boil as that causes issues with the consistency.