Crispy, creamy, unctuous Carbonara. It's quite simply quite simple. And it's so fast, your kids' hands had better already be washed for dinner, or they're gonna be late.
Carbonara is an extremely easy dish to make, with very few ingredients. There are a few variations, but the easiest way is just to do it like the Romans. Or as close to it as possible. They probably didn't have my electric stove.

The steps are quick and easy.
I found this recipe in a book that was given to me, as a surprise gift, by the sister of my best friend. The book, "Sauces and Shapes: Pasta the Italian Way", by Oretta Zanini de Vita, and Maureen B. Fant, have quite a lot of mouth watering recipes. And the carbonara recipe seemed to be more authentic than many you may find. Watch this little video to show you how darn easy it is.
As usual, I've made a slight change but it's nothing that makes this any less genuine. (An extra yolk, some pasta water… – nothing major – get over it, you purists.)
Try it a couple of times before you use it on guests, but when you eventually do, make sure they're sitting at the table when you start this thing because it comes together fast.
Ingredients
All it takes is: eggs, pepper, Romano cheese, guanciale, water and spaghetti. Guanciale is, and I hate to say it like this but thats how it is- pig cheek. It's quite fatty with a streak of lean, and when put in a hot pan the fat melta and you're left with the crunchy bits . Don't give in and substitute bacon for the guanciale. It's not remotely the same, and whatever your dish is, it won't be a carbonara.
It is said that you don't want to use something thin like angel hair, and that spaghettoni is even more desirable than spaghetti, being a fatter spaghetti. But to be honest, until recently I had never even heard of spaghettoni. Bucatini works well though, and it's basically a fat piece of spaghetti with a hollow center. You definitely need something big to grab onto the sauce. I usually use spaghetti.
Instructions
OK, so here's the very easy deal. Get a large pot of water boiling, take your piece of guanciale and dice it up into small pieces. You might be tempted to use bacon, but bacon is smoked, and for this dish you need a cured meat, like guanciale, or pancetta. But preferably guanciale. And if you do dare to use bacon, a Roman will show up at your door, wag his finger angrily at you and tell you "Quod non est guanciale!"
When the water is boiling, throw however much spaghetti you were cooking into the pot and throw the guanciale into a cold frying pan and turn it on medium high. Set a timer for about 10 minutes, or for however long it takes your pasta to be almost done.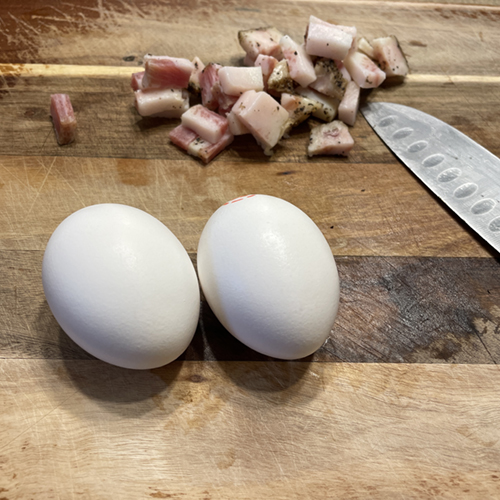 During that 10 minutes whisk the eggs and egg yolk until frothy, grate your Romano cheese and whisk it into the eggs and then add a generous bit of freshly ground pepper and whisk a little more. Pepper is definitely an integral part of a carbonara, and I suggest using a course grind of pepper.
Next head back to the stove, stir the spaghetti, and while you're over there, stir the guanciale and when the fat has all rendered out of it, like in this picture, set it aside.
When the timer goes off put the guanciale back on the stove, get it heated for about 10 or 15 seconds and put the spaghetti into the pan so that it sizzles. The spaghetti should be a bit al dente (basically not quite finished) because you want it to have some bite to it. Add a little bit of the pasta water to the pan with the spaghetti, and a little bit of the pasta water to the egg and cheese mixture. Just a little, maybe a 1/4 cup.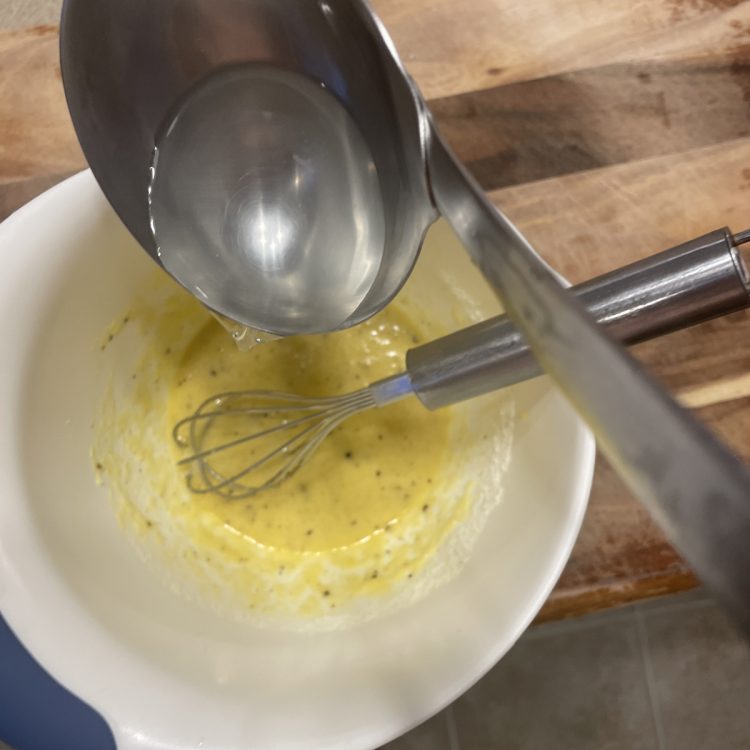 Then take the pan off the stove. I'd recommend letting the pan sit for about 30 seconds to 1 minute before mixing in the egg mixture, because if it is too hot you'll have scrambled eggs, and you'd have to start all over. Stir the egg and cheese mixture into the spaghetti for about a minute until it has thickened.

The recipe in "Sauces and Shapes" suggests using a plate warmer to keep it warm while you stir it, but I find that the pan is usually hot enough to thicken the dish, and in the 60 seconds that that takes to happen you have finished making dinner. Hopefully people are already sitting at the table.
Serve it, with some more pepper on top. That's it. You'll feel like a Roman.
Print
Simple Homemade Carbonara
---
Description
A delicious mixture of eggs, cheese, guanciale, pasta and pepper that will leave you wanting more, and telling your friends about it.
---
3 oz

guanciale, cut as one thick piece

1

egg

1

egg yolk

1/2 cup

finely grated Pecorino-Romano cheese
Spaghetti or other thick pasta like bucatini (enough for two people)
---
Instructions
Bring large pot of water to boil

Dice 

3 oz of guanciale into pieces about 1/4″ long
Grate 1/2 cup Romano Cheese
Beat 1 egg and 1 egg yolk until smooth.   

Whisk grated cheese into egg mixture until fully incorporated.

When water is boiling, throw however much pasta into the pot, and stir so it won't stick to the bottom. Cook for 10 minutes, or until it is al dente.

Put guanciale in frying pan on medium high, and cook, stirring occasionally until the fat is rendered out. 

If finished before pasta, remove from heat briefly.

When pasta is al dente, put the guanciale pan back on the heat, and use a pair of tongs or spaghetti fork to move the pasta into the pan, add about 1/4 cup of the pasta water and stir it around for a minute or two.  Remove the pan from the heat and let it sit for about a minute. While it sits, add 1/4 cup of the pasta water to the egg mixture, and whisk it to mix.  Then add it to the pan with the pasta and guanciale, stirring until the dish has thickened.

Place into bowls, grind pepper on the top, and serve.
Prep Time:

5 minutes

Cook Time:

10 minutes

Category:

Pasta

Cuisine:

Italian