SOUP IS THE EASIEST FOOD TO MAKE
When your daughter is a vegan but you want to share recipes with her so that she can enjoy the classics as well, sometimes you just have to improvise.
This delicious soup from Marcella Hazan's "The Classic Italian Cookbook", is exceedingly simple, and just requires the substitution of a non-animal based broth to make it vegan.
The question was, which broth? In the end, it was Mushroom broth that gave the soup the rich flavor it needs, due to the umami flavor that the mushrooms impart to the dish.
I don't think she really believes me when I tell her I made something totally vegan. There's no doubt about this one, though.
The preparation is simple. Take a handful of parsley and chop it finely. I tend to chop it one way, turn the chopping board 90 degrees, and chop it the other way. Then finely dice, or crush, the garlic. Then (and this is not in the recipe in the book, but I like it this way), finely dice about 1⁄2 cup, or more, of onion. The amounts of these items can all vary depending on your taste. My version of the recipe below, is different than in "The Classic Italian Cookbook", but I am assuming it is different in different Italian homes as well. So, I pretend I am in good company.
LESS OIL – MORE BEANS AND GARLIC
The original recipe calls for using 1/2 cup of olive oil, but that much oil would probably make me very unhappy, so I use 2 tablespoons, instead. Put the olive oil in a pot, and turn the heat on medium. When the oil is shimmering, sauté the onion until translucent, add the garlic and parsley, and stir quickly for about 20 seconds. Pour the drained cans of Navy Beans into the pot, add salt and pepper, cover the pot and simmer on low for about 6 minutes.
Scoop out some of the beans (I do about a cup), and puree them in a bowl with an immersion blender, or in a food processor. Then pour them back into the beans in the pot and add the 1 Cup of Mushroom Broth. Simmer and stir it occasionally for about another 6 minutes and it is ready to serve. Of course, like any soup, it is much better the next day.
A sprinkle of Accent helps, as well, because Accent is also pure umami. I didn't use Accent for years, until I found out that the entire "MSG gives you migraines" does not apply to me, or anybody I know. In fact, it may not apply at all, but I'm sure there will be people who it does affect that way who will leave me messages and call my phone. I would suggest them not using the MSG, because the soup isn't nearly as good if you are holding your head and moaning in pain. But I add about 1⁄2 teaspoon of it, and in place of a headache, I have a superior tasting soup.
---
Print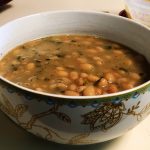 Bean Soup with Parsley and Garlic
---
Description
An easy and satisfying soup that can be made in minutes from Marcella Hazan's "The Classic Italian Cookbook"
---
1 teaspoon

chopped garlic

2 tablespoons

chopped parsley

2

–

3

cans of Navy Beans or Cannellini Beans

1/2 teaspoon

salt
Pepper, to taste

1 cup

mushroom broth (or chicken broth if you're not vegan)  
---
Instructions
Chop the garlic and put it in a pot with the olive oil and sauté over medium heat until just lightly colored. 
Add the parsley, stir two or three times, then add the drained cans of beans, the 1/2 teaspoon of salt, and pepper. 
Cover and simmer gently for about 6 minutes. 
Put about 1/2 cup of beans from the pot into a food processor, or puree with a stick blender in a separate container, and then add them back to the soup. 
Stir, and adjust seasonings for taste. Add more broth if you think it needs it. Now is the time to add the Accent, if you think it lacks any depth of flavor. 
Serve hot.