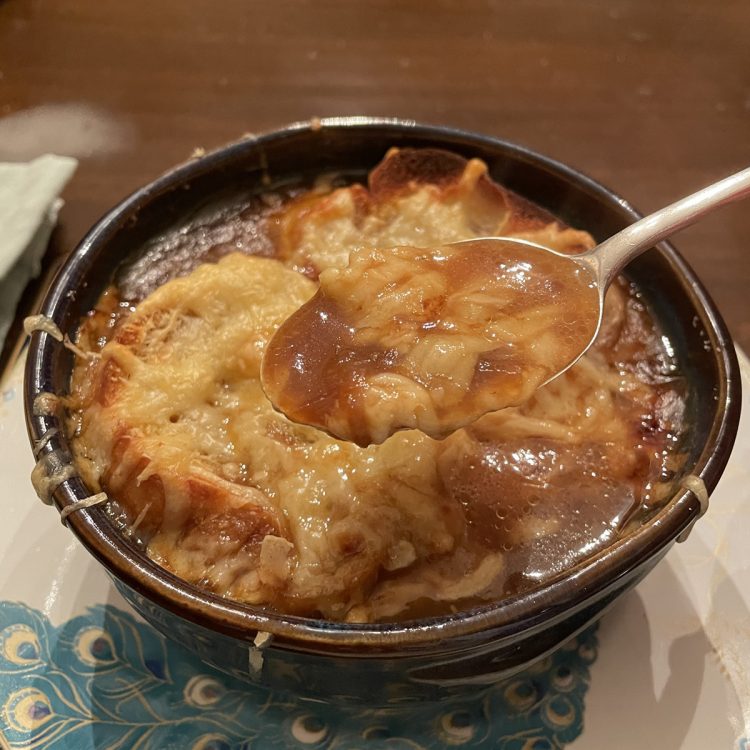 This is an incredible French Onion Soup that will make you feel like you are in a French restaurant, dining with Royals. And for a brief moment, you too will be royal.
I know. It's summer, and this is soup. But when you've bought onions three or four days in a row thinking you don't have any onions and then realize there's scads of onions on your counter, soup comes to the rescue.
THE BOOK THAT DEFINES COOKBOOKS
And what better recipe to use for French onion soup than Julia Childs' recipe from "Mastering the Art of French Cooking"? (Actually, it's a combination of two of her recipes, "Soupe à L'oignon" and "Soupe à l'Oignon Gratineé". It's certainly not a quick recipe but it is extremely easy. It just takes a lot of stirring for the first hour or so. It's the perfect recipe for a Saturday when the family is gone off to do other things. Then when they get back, the house will smell so glorious they will have changed their mind about the mess you make in the kitchen all the time. Until you tell them they have to wait until tomorrow to eat it.
ALL YOU NEED IS L'OIGNONS AND STUFF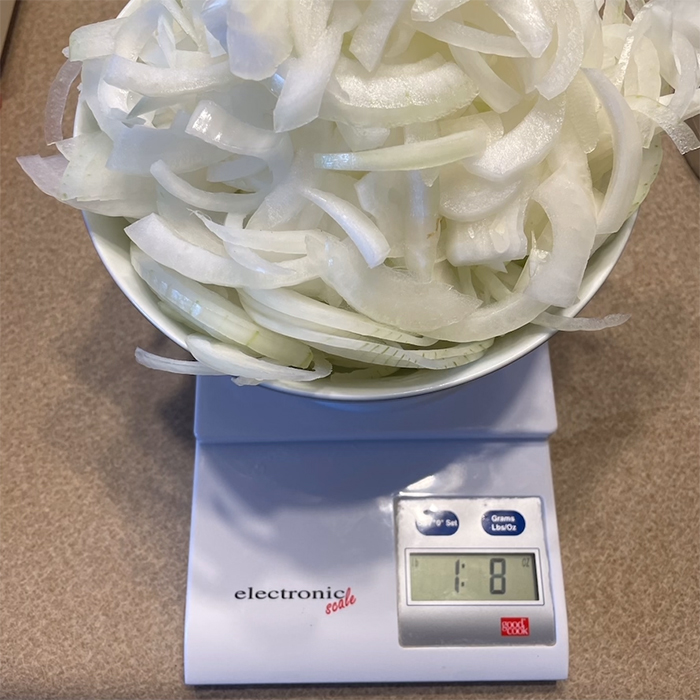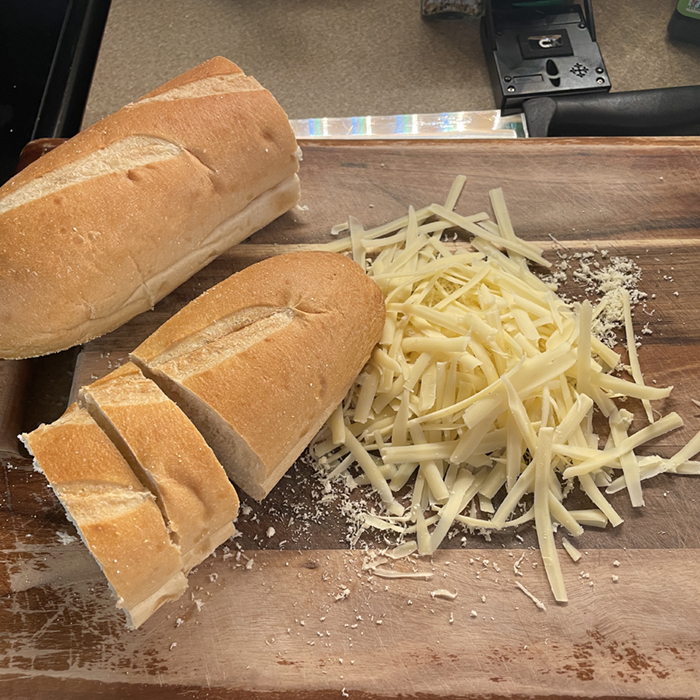 All you need for this recipe is onions, butter, olive oil, salt, sugar, flour, dry white wine, and some beef stock. After it's made you will need a few thick toasted slices of french bread, some Gruyere cheese and a little bit of cognac, if you'd like. Since Julia Child suggests cognac I'm using cognac. On the other hand, she says to use swiss cheese, and I'm going to use Gruyere, because I'm pretty sure the only reason she said Swiss was because you couldn't easily get Gruyere in the States back when she wrote the book.
THE ONION MAGIC HAPPENS HERE
The great thing about this soup is it's basically onions. First step: slice the onion thin . Second step put them in a pot with some melted butter and olive oil and cover them , cooking them on low for 15 minutes. Third step remove the top, add the sugar and salt, stir and continue to cook on low for another 30 to 40 minutes, stirring often. It's best to check it every three or four minutes so that it doesn't burn to the bottom of the pot, and when you do check it scrape up the fond that is forming on the bottom of the pot. (Fond is the caramelized brown bits left stuck to the bottom of the pot when cooking, that once released with a hot liquid add a great depth of flavor to your food).
JUST DON'T LET THEM BURN
I have read that you can add a little bit of water if the fond starts to burn to the bottom. But I keep the pot very low so that that doesn't happen. If it does though a couple of tablespoons of water will help. 20 minutes in you will have some brown onions . But keep browning. These are going to be the brown onions of your dreams. In fact, I'm going outside right now and then coming back in just so that I can smell how wonderful it is.
Put the two quarts of beef stock in a separate pot, and bring to a boil.
When the 40 minutes is up, and the onions are very brown there should be a good bit of fond on the bottom of the pot. Mix in the three tablespoons of flour and stir for about 2 minutes. Then, off the heat, stir in the beef stock, then the wine.
Place back on the heat, lower it to very low, and cover it – the pot topped slightly cocked, and simmer the soup for about 20-30 minutes. It seems like there won't be any soup at all left after that, but there will be, and the flavor will be intensified.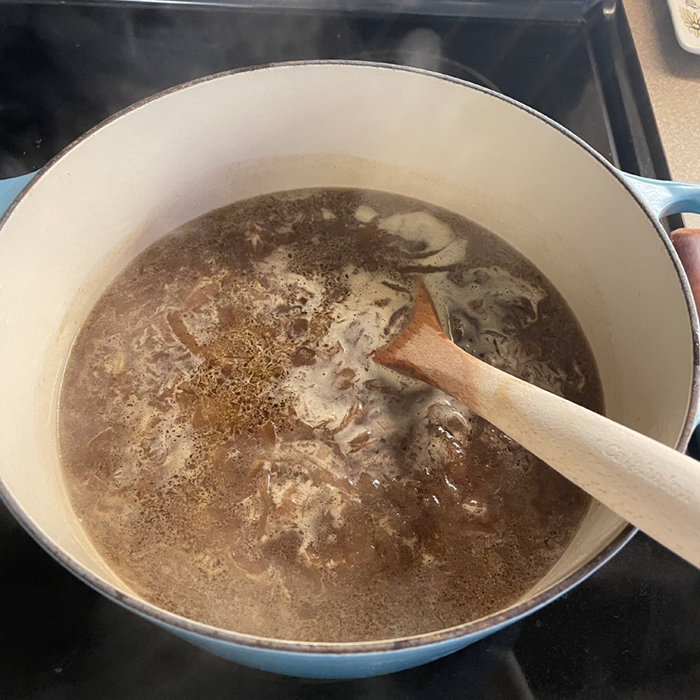 When done, remove it from the heat and reheat it when ready to serve it. I let it sit in the refrigerator overnight to meld the flavors, and when you take it out to reheat, that's when I add the cognac. I WOULD NOT SKIP THIS STEP!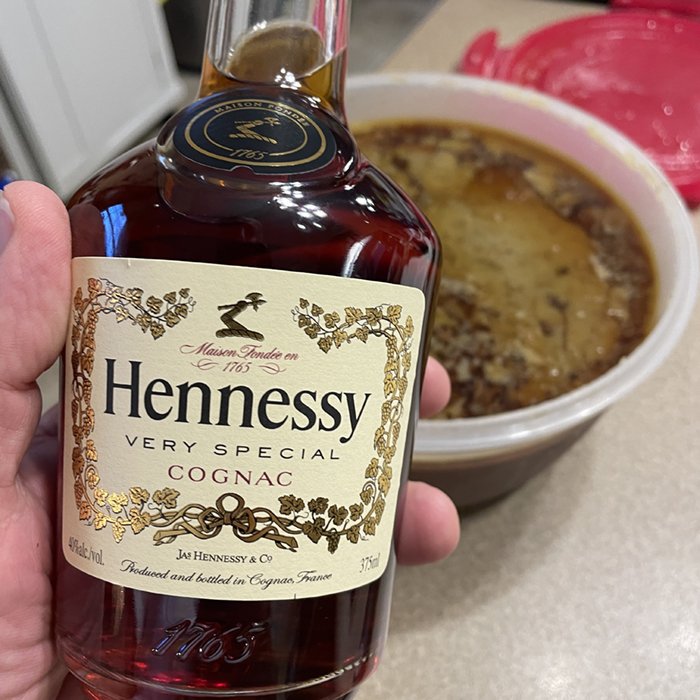 If you have some bowls you can put in a preheated 325° oven, ladle the soup into them, top with a piece of toasted French bread, and lots of grated gruyere. Julia Child suggests mixing slivers of cheese into the soup, as well as some grated onion, but good God, more onion? So, I leave that part out. A little olive oil on top before popping in the oven would be nice though.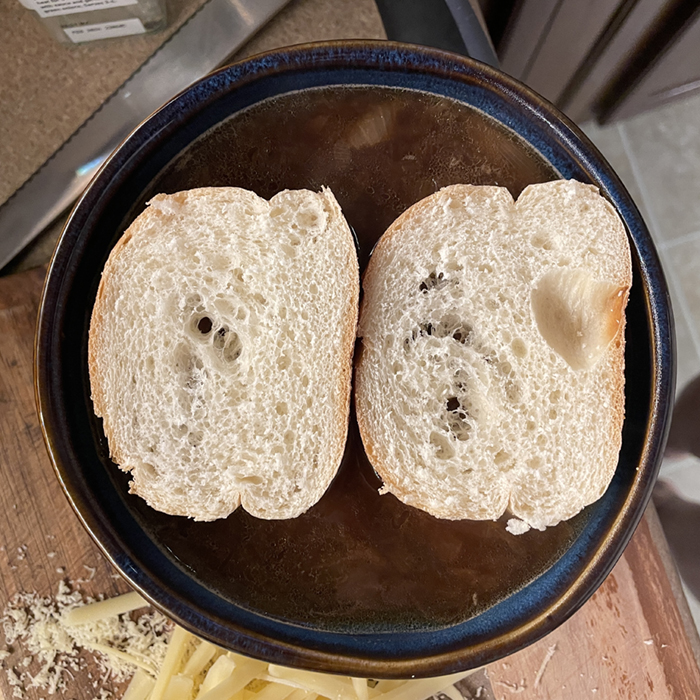 AND YOU ARE A FRENCH CHEF, TOO
Bake for 20 minutes, then turn on the broiler until the cheese is lightly browned. Serve immediately to guests who have no idea how molten hot it is.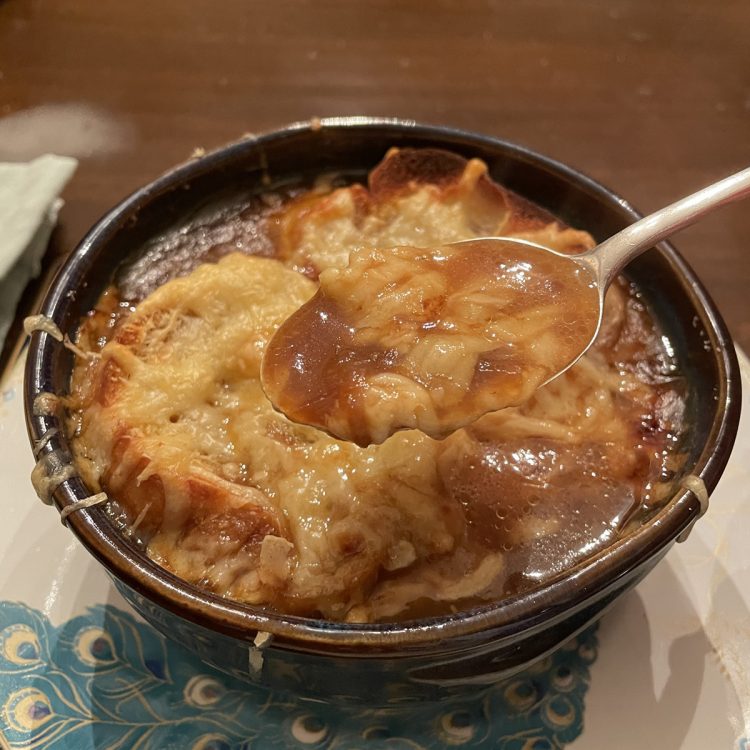 Print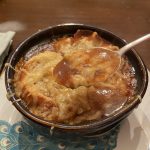 Julia Child's Amazing French Onion Soup
---
Description
A classic French onion soup that will make you feel like you are a chef in a fancy French Restaurant.
---
1 ½

lbs. onions, sliced

3

tbs. butter

1

tb. oil

1 tsp

. salt

¼ tsp

. sugar

3

tbs. flour

2 quarts

beef broth

½ cup

dry white wine

3

tbs. cognac
French bread

2 cups

grated Gruyere cheese
---
Instructions
Place 1 tb. oil and 3 tbs. butter in large soup pot, and heat on medium until the butter is melted.
Add the 1 ½ lbs. onions, lower the heat, cover, and cook slowly for 15 minutes.
Remove the cover, add the 1 tsp. salt, and ½ tsp. sugar, and cook slowly until the onions have gotten a deep brown color. Stir often, and if needed to prevent burning you can add 1 tbs. water.
In a separate pot, heat to boiling the 2 quarts beef broth.
When brown to your liking, sprinkle with the 3 tbs. flour, and stir to coat the onions and cook off the flour taste for roughly 2 minutes. 
Add the boiling beef broth to the onions, and stir to loosen the fond from the bottom of the pot. Add the ½ cup dry white wine, and let the soup simmer for about another 30 minutes.
Stir in the 3 tbs. cognac, and then refrigerate the soup overnight, if you can stand to not eat it right then and there.
When ready to eat it, preheat the oven to 325

°

, toast inch thick slices of French bread, heat soup to boiling, ladle into an oven safe bowl, and top with the French bread, handfuls of the grated gruyere cheese, and possibly a drizzle of olive oil on the top. Place in the oven for 20-30 minutes, then turn on the broiler for a few minutes to brown the cheese on the top.  Enjoy your moment in the limelight.