FALL BACK ON YOUR FAVORITE COOKBOOKS
Sometimes dinner plans go badly awry, though that's just normal in the hectic world that we live in. That's what happened to me the other night when I attempted something while not following the directions.
In the end, Cuisine Rapide, a fabulous cookbook by Pierre Franey and Bryan Miller, delivered an easy and fabulous dinner. This cookbook has never failed me. But in the meantime…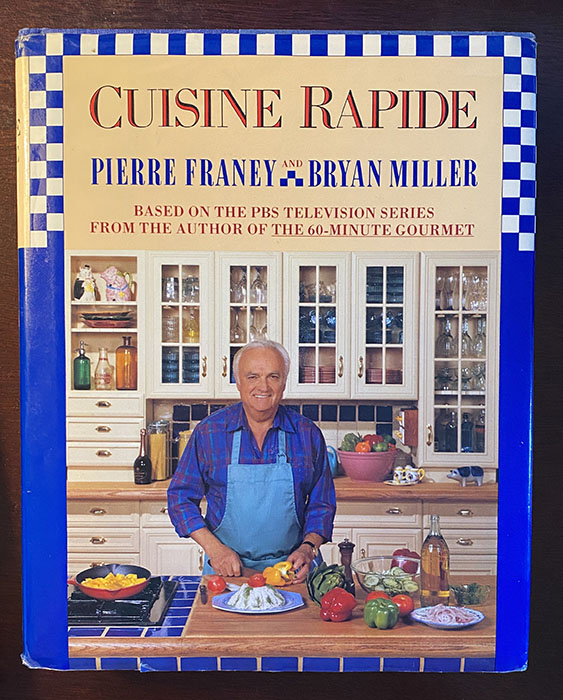 What began as a plan for a dinner of homemade ravioli, turkey cutlets and orzo with tomatoes, became a giant mess in the kitchen when I couldn't seem to get my hands on the won ton wrappers that were going to make creating the ravioli so easy. Instead, I pulled out the old electric pasta machine, and ended up only being able to make the ravioli, and a tremendous mess. The ravioli was delicious, but it took forever and the kitchen was a wreck. Hence, I'm taking a pasta making class next month, and will soon be making pasta the old fashioned way.
Nevertheless, because of my foray into the unknown, there wasn't time for the turkey cutlet dinner, but I made it a few nights later (without the ravioli), and it was not only easy, but incredibly tasty. And there wasn't flour all over the kitchen. So, I present you with those recipes. You will want to add a side or two. I did the orzo, which you can see here. It also was quick and easy.
TAKE THE TIME TO MISE EN PLACE
This simple recipe takes a little prep time, but comes together quickly. I start by slicing the mushrooms and setting them aside in a bowl. Don't use pre-sliced mushrooms, as they are too thick. Then mince the garlic and set that aside. And if you're making the orzo dish as well, double up the garlic. Finally, chop up the parsley, and add a little more than called for, because the orzo looks better with a little sprinkled on top as well.
Take the turkey cutlets that you have bought in a strangely shaped plastic tube of sorts from the store, and cut each of them into four pieces. They won't be evenly sized, but that's ok. It's home cooking. Then lay out some parchment paper, and place each cutlet on it, fold it over the top, and pound it rather gently-like, with your meat pounding device. I use a meat mallet and use the smooth side, but before I had one of those I would always use the handle of one of my heaviest knives. Just don't over-pound the turkey, as it will disintegrate. I recommend warning people nearby before you start to pound on the counter. It tends to make them jump if you don't.
Place each piece on a plate, until you have pounded them all, and then one by one, dredge them in flour. I dredge three or four at a time, cook them, set those on a plate, cover them with foil, and repeat the process until they are all cooked.
To cook the cutlets you just put a little olive oil in the pan, add the cutlets, cook for a few minutes until they are golden brown, flip them, and cook the other side. Couldn't be simpler.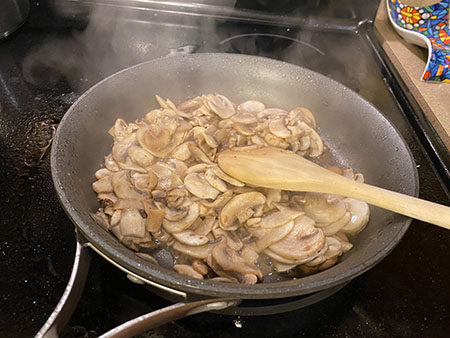 THE FINAL STEPS THAT BRING IT TOGETHER
When those are all cooked and transferred to a plate by themselves, put a tablespoon of the butter in that same pan, add the mushrooms, and cook for about 5 minutes or until they are the consistency you like. Add the drained bottle of capers, the 1⁄2 teaspoon of garlic, stir it all around for about 30 seconds or so, and then add a small splash of chicken broth and cook for a minute. Add the other 3 tablespoons of butter and swirl it in, because that last bit of butter makes the dish just a blink of an eye short of heaven. Pour all of that over the turkey slices and sprinkle with parsley, and you're done. Except for the sighs of pleasure you will hear at the table.
---
Print
Turkey Breast with Capers and Mushrooms
---
Description
A stunning dish that fills you up but doesn't weigh you down.
---
8 slices turkey breast tenderloin steaks, about 1 ½ lbs.
½ pound mushrooms
¼ cup flour, or more
Salt and Pepper, to taste
4 tablespoons olive oil
4 tablespoons butter
¼ cup drained capers
½ teaspoon finely minced garlic
2 tablespoons chicken broth
¼ cup finely chopped parsley
---
Instructions
Mise en place
Slice the mushrooms and set aside.
Drain the capers and set aside.

Chop the parsley and set aside.

Mince the garlic and set aside.
 Making it Happen
Cut the turkey breast tenderloins into 8 pieces

Dredge enough of them to fit uncrowdedly in a pan.

Heat 2 tablespoons of the oil in the pan until it shimmers.  I put the stove on medium high heat. Add the turkey slices, cook them until they are golden brown on one side, then flip them and do the other side. This should take about another 2 minutes.

Transfer the turkey to a plate or large serving bowl, and cover with foil to keep warm.

Add another tablespoon of oil to the pan and repeat the process of browning more turkey slices.  Do this until you get through all the turkey.

When the last of the turkey is out of the pan, melt a tablespoon of butter in the same pan, and add the mushrooms. Cook them, stirring and shaking the pan for about 5 minutes.

Then add the capers and garlic, and stir to blend it all.

Splash in the small amount of chicken broth, let it bubble for a minute, and then swirl in the remaining butter.

Put cutlets on a plate, top with mushroom mixture, and sprinkle parsley on top.