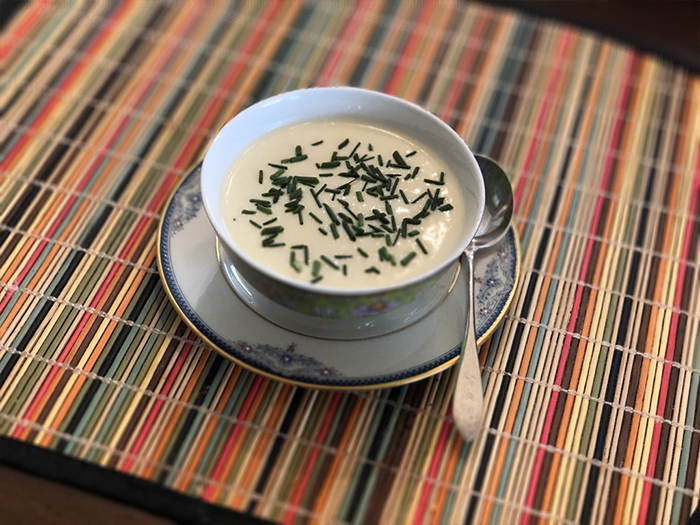 ABOUT THIS RECIPE
The New York Times Cookbook was first published in 1961, and in my mind it is a collection of recipes that have appeared in its pages over the years. I may be wrong, but what does it hurt to believe that? This recipe for vichyssoise is one that my mother made, rather infrequently due to the incredibly high caloric count. But each time she made it we relished every bite. Hell, I'd have bathed in it if I could have. It's a simple, yet slightly time-consuming recipe, and requires little skill.
Originally, as the story goes, it was written by chef M. Louis Diat, the chef of the famous Ritz, while experimenting in his kitchen – something I do on an almost daily basis. My mother liked the recipe so much that she copied the NY Times obit of M. Diat, where the recipe was printed, and mounted it on cardboard, she retyped the recipe and stuck it in the NY Times Cookbook, and when electronic communications took over, she emailed it to me.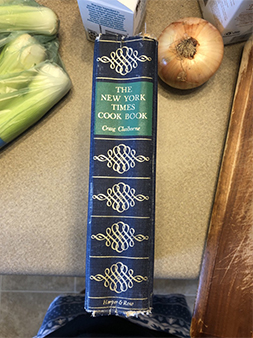 Most of the ingredients were already in my kitchen, so I only had to go shopping for a few. Here is what is needed:
4 Leeks, white Part
1 Medium Onion
2 ounces sweet butter
5 Medium Potatoes
1 Quart Chicken Broth (or water, heaven forbid)
1 Tablespoon Salt
3 Cups Milk
2 Cups Heavy Cream
Chopped Chives, for garnish
A QUICK TRIP TO THE STORE
I had all of this, except the leeks, enough chicken broth, and enough heavy cream. I knew I had an onion, because I had just bought one, so no need to buy another. A quick trip to the store and back and I was ready to go. Now, where's that onion?
ANOTHER QUICK TRIP TO THE STORE
It turned out that I only had a small piece of onion left in the house – about a quarter of an onion – and it calls for a whole one. I mean, I looked through that refrigerator top to bottom, and there wasn't a whole onion anywhere in there. So, BACK TO THE STORE, to get a sole onion. Upon returning, I placed it on the counter, next to the onion that was sitting there the whole time silently taunting me. That's when I remembered that you don't store onions in the refrigerator. Well, you can't have too many onions anyway.
CHOPPING, DICING, SLICING, MINCING
The first step is to cut the leeks. Leeks are notoriously filled with sand, and there is nothing worse than sandy soup. So, even though you are only using the white part (and a little of the light green parts), CLEAN THOSE LEEKS! I don't know what to do with the upper, bright green, part of the leeks. It seems like they would be good for tying something tightly to the mast of your ship in a raging hurricane, but perhaps there is a culinary use for them. They might be good for compost in the garden.
I cut off the white ends of the leeks and turned to wash them, which is when I realized that the sink was full of dishes!. As is typical in my house there are always dishes in the sink when it's time to cook something. Probably because I am always cooking something. I'd better put up the clean dishes from the dishwasher, put the dirty ones in their place, start the dishwasher, and then I can get underway.
Cutting up the leeks takes around 20 minutes – I swear. You cut off the ends and set aside the green parts. You slice the white part into rings, and then chop them into small pieces. They are a bit slippery if that outer layer comes off, which it will, and it turns into so many leeks you will have to keep scraping them into a bowl to make room on the chopping board. Then cut up the onion.
I have to be honest here: apparently, I'm not that good at remembering to check back on the recipe. I went to the store and got an onion. I had an onion. I knew, at one point, that I needed a whole onion, but finding a 1⁄4 onion must have confused me. So, I chopped up about a half an onion (I added a little more, because I like onion – eye roll). It wasn't until a good a bit too late that I realized that I was supposed to have a whole onion in there. Doesn't matter. "Still going to be heavenly", I told myself. The cutting of the onion takes about two minutes. Especially if you use less onion.
ANY SIZE POTATO IS PERFECT
This recipe calls for 5 medium potatoes, sliced thinly. What size is a medium potato? I truly have no clue. But I have a bag of Yukon Golds, and some of them look to be about medium sized. And some of them look a bit less than medium. To be on the safe side I use a few extra. The recipe doesn't mention anything about peeling these potatoes. Not a word. You would think that if you had to peel the potatoes that the recipe would say that. But I have to tell you, if you don't peel the potatoes, your soup isn't going to be right…or white. So, I peeled the potatoes. My mother-in-law peels potatoes with a knife and does a superb job of not wasting a smidge of the potato. I use a vegetable peeler and cut off about 10 minutes of peeling time (and quite a bit of potato as well). That's another reason to add a potato or two to the recipe. Anyway, here is my version of 5 medium potatoes.
If you have a mandoline, now is the time to get it out. I have one stored down in a cabinet underneath quite a pile of other things like knife sharpeners, and kitchen scales. I set it on "oh so thin" and sliced those potatoes in no time, being careful not to slice off my fingers. It's a constant worry, when using the mandoline, that a fingertip is going to make it into the dish. But, I have never seen one floating in the soup, so maybe I am just being …. No. Better to be careful. That sucker is sharp!
MO' BUTTA' IS BETTA!
I melt the four tablespoons of butter – actually, I use six tablespoons, because it seems like a lot of leeks and onions, and butter is just sooooo good. Then I just dump the onions and leeks into the large pot (you're definitely going to need a large pot) and sauté them until they start to brown. Honestly, I sautéed them, stirring so they wouldn't burn, for quite a while, and finally when they were very soft I decided I was tired of that, and added the potatoes, chicken broth, and a tablespoon of salt. That seems like a lot of salt, but it's a lot of soup and it needs it. If you're on a low sodium diet, eat less soup. (Truth in advertising statement: I am not a doctor.)
REST AND RELAXATION STEP
At this point, the mixture needs to simmer for 35 minutes. I found that setting a kitchen timer is helpful, but instead I watched an episode of "I Love Lucy", and made sure to get up during the commercials and stir it a little because I think stirring stuff is a good thing to do when you're simmering something that long. It makes me feel all cheffy. When the episode of "I Love Lucy" was over, and Fred and Ethel and Lucy and Ricky had all hugged and made up, the soup was ready for the next step. That step being: Find the blender.
THIS IS WHERE THE MAGIC HAPPENS
The recipe keeps calling for me to put the soup through a fine sieve to get all the little pieces out, but I decide that a blender is a great way to do that. "It'll just puree everything to smithereens!" I think. So, I dig out the blender, and ladle batches into it, and puree until smooth. Remember not to fill the blender up with hot liquid and just push the button, because the steam released will spew hot soup everywhere, and I'm not going to be there to transport you to the emergency room. I err on the side of safety and fill it a little less than half way up, and end up having to blend quite a number of times, pouring the soup into a large mixing bowl, but the recipe will take too long if you add in a trip to the hospital.
Then I poured it back into the pot, added the three cups of milk, and a cup of the cream, and brought it to a boil. I stirred it constantly while this was happening, because I didn't want it to stick to the bottom of the pot, which it will do. I was once banned from making vichyssoise because I ruined a giant soup pot by letting it burn to the bottom. This time, as soon as I saw a small piece of brown float up in the soup, I took it off the heat and poured it into a large mixing bowl to stop the cooking. And then washed the pot.
At this point I was supposed to rub the soup through a fine sieve again, but instead I let it cool a bit and put it through the blender a second time. After that, I added the final cup of cream and stirred. No, I thought, it needs some more cream. So, I got a little bit more out of the fridge and added that too, because cream is almost butter, and you just can't have too much.
PAY NO ATTENTION TO WHAT I SAID BEFORE
Supposedly, the last step is to put the soup into containers – and this recipe makes about three quarts – and refrigerate overnight. So that's what I did. Then the next morning I got up, and while the coffee was brewing I got out a spoon and tasted it. IT WAS PERFECT! Except, there was an infinitesimal piece of leek there. So, I got out the sieve – which I should have done to start with – and strained it.
Now if you don't have chives growing in a pot somewhere in your house, you will have bought some at the store. My mother had some chives that grew in her NY apartment window sill for over 35 years. I have some that have lasted over a year without me killing them.
It's an important step to cut up some chives and sprinkle them on the top of your bowl of vichyssoise. Not only for presentation, but also because if it's not perfectly smooth, the chives will hide that fact.
A little misdirection goes a long way in cooking.
There's not a lot of misdirection that is needed, here, however, because what you have just produced is, perhaps, the most delightful concoction ever to be produced in a kitchen.
This is the type of recipe that your friends, who have never had it, will turn their nose up at, and you will have to bribe them into tasting it. And then you will realize that 3 quarts really isn't that much. They all will be asking for more.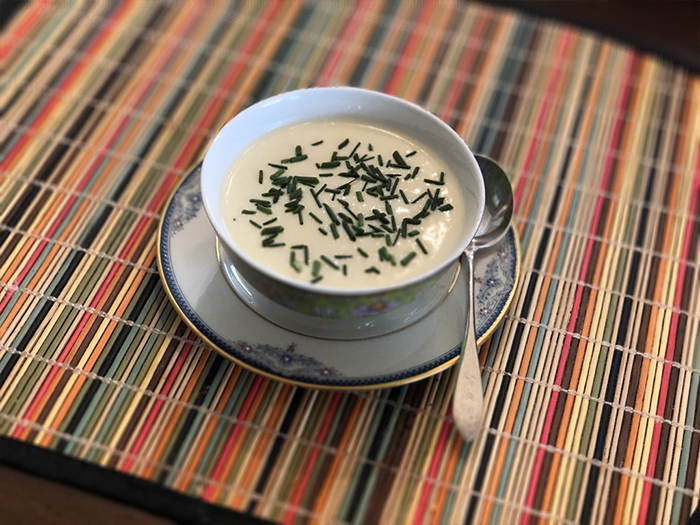 Print
VICHYSOISSE A LA RITZ
---
Description
A velvety cold soup that you will remember and crave the rest of your life.
---
4

leeks, white part, sliced

1

medium onion, sliced

1/4 cup

sweet butter
Five medium potatoes, thinly sliced 

1 quart

chicken broth 

1 tablespoon

or less salt 

3 cups

milk

2 cups

heavy cream 
Chopped chives 
---
Instructions
In a deep kettle, brown the leeks and onion very lightly in the butter. Add the potatoes, broth and salt and boil 35 minutes, or until very tender. If it seems too thick to simmer that long, add more chicken broth.  Crush and rub through a fine sieve, or purée in an electric blender. 
Return the sieved mixture to the kettle, add the milk and one cup of the cream and bring to a boil. Cool and rub again through a fine sieve. Chill. 
Add the remaining cream. Chill thoroughly and serve garnished with chives.