IF YOU DON'T LIKE MUSHROOMS
GO AWAY
What better way to start this blog than with an Appetizer? And mushrooms were calling my name. They always do. This delicious looking Mushroom Pâté is something I can whip up in no time, chill in the refrigerator over night, and still have time to make dinner after I finish it. Why try to make dinner too, you ask? You gotta eat, right? You don't think the family is gonna want to starve while you fiddle with something for tomorrow, do you? Well, they don't.
PREPARATION & SOLAR PANELS
Obviously, I didn't have a great selection of wild mushrooms just sitting around the house, so we made a quick trip to the store. I just took a picture of the recipe, so I wouldn't miss anything. You gotta buy the mushrooms, and other stuff, the day before just in case your store doesn't have squat, or you find yourself delayed, as I did, behind a woman blocking access to the mushrooms, while studiously reciting over the phone a description of every fungi in the cooler. By the time she hung up, though, I knew exactly what I needed.
So, I thanked her. Sarcastically.
Coming home from work the next day, I figured I had time to attempt this recipe. I started to get everything out onto the counter, when my husband called to say that some nerdy little guy was coming up the street to talk to me about installing free solar panels on the house to save us money! This was an exciting development, that we just couldn't pass up.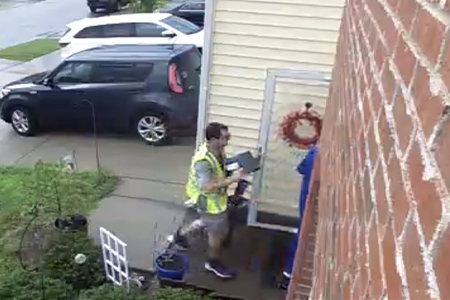 He was clearly not in the plan for the evening, but was ushered into the house and promised to only take up a few minutes. It turned into 30. Not ideal, when you are trying to make an appetizer, as well as dinner that night, but that's how life goes. Turns out the solar panels weren't free, though it took quite a number of questions to leach that bit of information out of him. He did manage, however, to waste a good half hour of cooking time. OK, where was I … Oh yes, the Mushroom Pâté.
THE MAKING OF THE DELICIOUSNESS
The recipe makes it sound so easy. I had read it just 30 minutes ago. No need to re-read it before I begin.
As you can see, I had to push quite a bit of stuff out of the way, on the counter, because I don't live on a TV Cooking Show set. You probably don't either. So I propped the cookbook up on top of some tins of
nuts, and pushed the bottle of wine out of the way, and got to work.
I cleaned what I am guessing was about 4 cups of Cremini, Shitake, Button (I am American…), Oyster mushrooms and some weird looking things that seemed to be the kind of fungus you would find growing out of the side of a tree stump in the forests of China. I didn't measure exactly, because how do you even measure all those different size mushrooms? I just kept cleaning mushrooms until I got sick of it. Then I took this artsy looking picture, and started chopping. There was a lot of chopping.
BUT WAIT! THERE'S MORE
Suddenly, I realized that it had gotten late, and I hadn't done anything for dinner
AND NOW, BACK TO OUR PROGRAM
In short order, the mushrooms were chopped and in the pan, sautéing in butter. I really like butter, so I might have just thrown some more on top after a few minutes.
Before I knew it, by which I mean quite a lot of stirring later, the mushrooms were soft, and it was time to check the next step. Well, DAMN! With the Solar Panel Man distraction, I had gone and totally forgotten to roast the garlic! Well, IT'S TOO LATE FOR THAT NOW! Just throw that stuff in a pan with the shallots and onions, and sauté it up and mix it in there with the mushrooms. That'll work. AND, I didn't have to turn to page 387!
TAKE A BREAK
After adding the wine, and letting it simmer until all that delicious port was soaked up, I took it o! the heat and let it cool down! This is my favorite kind of step. It's the "Take a Break" step. So we sat down and ate dinner. It was during dinner that my husband decided that it would be WONDERFUL, if I made us Strawberry Shortcake for dessert. I didn't remember that in the plan for the evening, but I politely explained to him that I would be glad to sit on the sofa sipping wine, while I detailed how to make a strawberry sauce, so that he could do it for us.
And guess what? That worked GREAT!
Before long he was presenting me with a lovely Strawberry Shortcake, topped with whipped cream, which was just perfect for the occasion – since there wasn't one. Did I mention that he likes whipped cream just a tad more than I do? There really is a shortcake under there.
AND NOW, WITHOUT FURTHER INTERUPTION
Finally, all I had to do was to put the mushroom mixture in the food processor, add some cream, and there would be elegant perfection! So in it went! I pulsed, and pulsed, and pulsed, and pulsed until the mixture was as close to "silky smooth" as I could get it after a glass of wine had lowered my threshold for patience, then poured the two tablespoons of cream in for the final mix. Now, if you've ever used a food processor before you will know that there is a "pusher" thing that goes in the "feed hole" which keeps things from flying out after you drop them in the manically spinning mixture.
I would recommend removing this before you add the cream, or you will end up with a cap of cream just staring up at you, like I did. Fortunately, it's only 2 tablespoons of cream, so you can just dump that down the drain and actually add it to the ingredients the second time. It definitely smooths out the mixture. (Of course, it would have been smoother if I had remembered to add that 1/4 cup of softened butter at the last minute – but that would have been out of character for me).
THE RESULTS
The result, however, when I finished with the struggle, was exciting and twofold! Firstly, I had created an elegant tasting Mushroom Pâté, which if put in a fancy little bowl and garnished with something, will wow your friends at the party. That's what I did. The recipe recommended rosemary as a garnish, but I didn't have any, and did have some chives, which are delicious on pretty much anything from chicken to rocks, so I used those.
Of course, the stuff had to sit in the fridge for a couple of hours before it was servable, which was fine, because I was too tired to eat it anyway. It looked great served on little toast squares that you make by cutting off the crusts of whatever bread you have around the house, cutting it into fours, and toasting them.
THE SECOND RESULT
The Mushroom Pâté flavor is so rich, and full of umami, that despite the garlic not being roasted, I keep going back and eating one more. The port wine permeates each little square, and gives every bite that taste that you expect in something you paid dearly for at a fiuve star restaurant. Of course…Those mushrooms weren't cheap.
AND LASTLY…
In the end there is one thing that is undeniable. When I am making something tiny, like these little bites, and dinner is also being served, and there's a strawberry shortcake involved, and somebody is trying to sell me solar panels…the end result is not only going to be spectacular – like life itself – but there's going to be a little clean up involved. Like life itself.
It's surely not the kitchen on the Food Network, and it's not Julia Child's kitchen. It's my kitchen. And usually, in the end, it's Total Chaos Kitchen!
As busy as every day might be, there is always some time for good food. And, if you're lucky, like I am, there's a good husband around to deal with this:
---
Print
WILD MUSHROOM PÂTÉ
---
Description
This will mess up your kitchen but leave you with a savory dip or spread for a party
---
4 cups

Mixed Wild Mushrooms 

2 tbsp

Unsalted Butter


1

small White Onion


1

medium Shallot (diced) 

2

cloves Roasted Garlic (chopped) 

1

Bay Leaf


1 tsp

thyme


1/2 tsp

Kosher Salt 

1/4 tsp

Black Pepper (freshly ground) 

1 1/2 cups

Tawny Port


2 tbsp

Heavy Cream


1/4 cup

Unsalted Butter (softened)
---
Instructions
Clean, Trim the stems, and slice the Mushrooms 




In a large skillet over medium heat, melt 2 tablespoons unsalted butter. 




Add the minced shallots, and the two cloves of chopped roasted garlic. 




Cook, stirring for about two minutes 




Add one fresh Bay leaf, 1 teaspoon fresh thyme, 1/2 teaspoon kosher 




salt, and 1/4 teaspoon freshly ground black pepper and sauté for another five minutes, or until the mushrooms start to shrink and release their juices. 




Gradually add 1 1/2 cups tawny port and simmer until the mushrooms have absorbed nearly all of the liquid. Turn o! the heat and let cool for 5 to 10 minutes. 




Transfer the mushrooms to the food processor and pulse until coarsely puréed. With the food processor running, gradually add 2 tablespoons heavy cream and 1/4 cup softened unsalted butter and blend until silky smooth. 




Transfer the pate to a 2 cup ramekin or glass jar, packing it tightly, and flatten the top with a knife or spatula. Press a piece of plastic wrap directly onto the surface and refrigerate until firm, about two hours or for up to one week (the pâté can also be frozen for up to two months; let thaw overnight in the refrigerator). 

Bring to room temperature, garnish with rosemary, and served with fresh strawberries, Brie, and whole-grain crackers.