My sainted Mother…yours is sainted too, right? My sainted Mother used to make the most memorable pecan pie – one that would have people asking for the recipe until she would finally agree to give it up. All I could remember was that it was from a Louisiana cookbook, that I thought was some high-falutin' Southern fancy recipe collection. I can't remember much about the book except that I have a few pages remaining. That's probably best. It seems to me it was rather dated in it's memories of old time Louisiana.
The recipe itself is simplicity in print. I made it twice recently, as the first time just wasn't enough. Both times I used a 9" pie crust, though the second time I used a deep dish, and it fit the ingredients much better. I used a store-bought pie crust, and it came out perfectly to my unrefined taste, but feel free to make your own pie crust if you're good at that. But as of yet, I'm not.
For this recipe I used 10 oz. of pecan halves, which I chopped in my handy dandy Pampered Chef Food Chopper, sugar, eggs, dark Karo syrup, butter, vanilla extract, and that store-bought pie crust.
And as a quick aside if you don't have such a food chopper, you can't go wrong with this one. It's super nice.
And this is all it takes…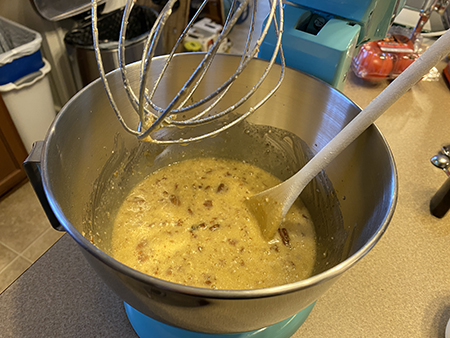 Pre-heat your oven to 375 degrees.
All the mixing can be done by hand in one bowl, but I used my mixer because I love my mixer, and who needs the stress? First you beat the eggs until they are light, and then add the suger and everything else with the mixer on low. Mix them until they are all combined – I don't know, for maybe 30 seconds. Does it look good? Then you are good to go.
Pour it all into the pie crust, decorate your creation with some pecan halves on the top, and bake it until it's done. The deep dish pie should bake about 45 minutes, but a regular pie only takes 30-35. Then you have to let it cool for at least as long as you can stand it sitting there on the counter before you cut into it.
Print
Easy and Delicious Pecan Pie
---
Description
An easy pecan pie recipe that is so delicious you will want to make it again the next day.
---
3

eggs


3/4 cup

sugar


3/4 cup

dark Karo syrup


3 tablespoons

softened butter


1 1/2 cups

chopped pecans


1 1/2 teaspoons

vanilla extract


9

" uncooked deep dish pie crust


9

whole pecans for decorating – 8 around the pie, 1 in the center 
---
Instructions
Preheat the oven to 375 degrees. 

Beat the eggs until light. 

Add the sugar, Karo syrup, butter, chopped pecans, and vanilla extract. 
Mix well. 

Pour into the uncooked pie crust, and decorate with the whole pecans. 

Place on a baking sheet and bake at 375 degrees for 40-45 minutes. 

This pie can be baked the day before and served hot or cold. 

We love it with a scoop of ice cream. 

Prep Time:

20

Cook Time:

45

Category:

Desserts

Method:

Baking

Cuisine:

Southern US
Keywords: pecan, pie, dessert