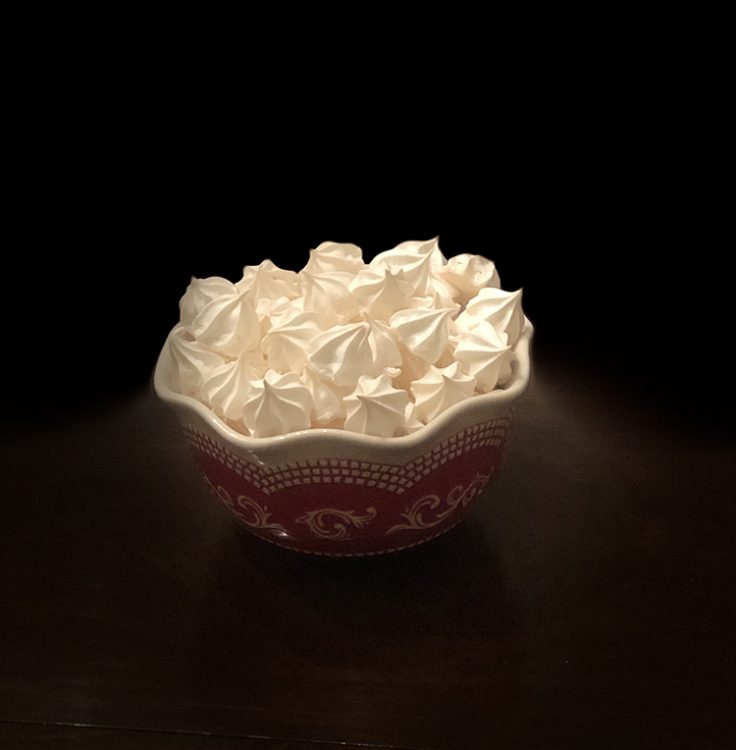 MERINGUES ARE FOR EVERY DAY
What could be easier than Meringues? Well, maybe a lot of things. But they are easy enough, and impressive enough, that they are worth making. And The Joy of Cooking, has a wonderful little recipe for them, which with just a little tweaking, will give you perfect meringue kisses every time. This is the type of little thing you can bring to a party or give as a gift, which people will ask for again. And you know, that's the praise we are all after when we cook.
"Cook" is almost not an applicable word with the recipe, as the oven is set to a minimal 200 degrees. Nevertheless, you will be branded a chef when you produce these little delights. Here's all it takes:
Egg Whites
Cream of Tarter
Sugar
Vanilla
The process is simple.
Preheat the oven to 200 degrees.
HALF AN EGG IS BETTER THAN NO EGG AT ALL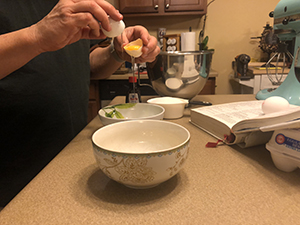 Separate the egg whites from the yolks. You can save the yolks for another dish, like hollandaise, if you wish. Or store them in a tightly capped container, as I do, for up to four days, in the refrigerator, until you realize you aren't going to actually use them for anything after all, and then throw them away.
Once you have the egg whites separated, you put them in a mixer with a tiny bit of Cream of Tarter. What you will do with all the rest of that container of Cream of Tarter, I just couldn't tell you. There needs to be a Cream of Tarter cookbook, because you only use about 1/8 – 1/4 teaspoon of it here.
WHIP IT! WHIP IT GOOD
Then turn the mixer on medium high or so, and mix away. The egg whites will begin to stiffen, and when they get stiff, but not dry – that's what I read somewhere – you start to SLOWLY add in the sugar. I just rest the cup of sugar on the side of the bowl, tilted so that it cascades slowly into the egg whites from the vibration of the mixer.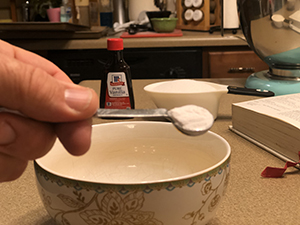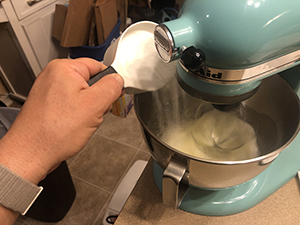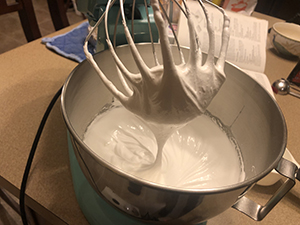 PIPING, BUT NOT PIPING HOT
As they gain volume, you will find that you have created a beautiful white mixture that forms gorgeous peaks. When you add the last of the sugar, you can turn down the speed of the mixture and add a little vanilla. 1⁄2- teaspoon to 1 teaspoon is plenty. Too much will reduce the thickness of the meringue. Then you can just drop them onto a greased pan from a teaspoon, or if you have a decorating kits of some sort, you can pipe them into little kiss shapes. That's a little more impressive, but for years I used nothing but teaspoons – scooping some with one teaspoon and pushing it onto the pan with another.
Once you have them piped or spooned them all over the pan, just pop the pan in the oven and leave them in there for 1 1/2 hrs, and go away. Don't pester them. In 1 1/2 hours turn the oven off but leave it closed and let them sit overnight, or for 8 hours or so. They'll be perfect in the morning.

The result is a divine little bite sized treat that melts in your mouth and yet has a nice chewy feel as well. You will find it hard to stop eating them, but you will have to or there won't be any for the guests and you will have to make more. Variations I have tried are using food coloring, which works just fine – giving you nice pastel colors, and piping them onto M&M's, which people seem to really like. I am pretty sure I read that small nuts can be mixed in to the meringue if you are using the spoon technique, and that that is delicious as well.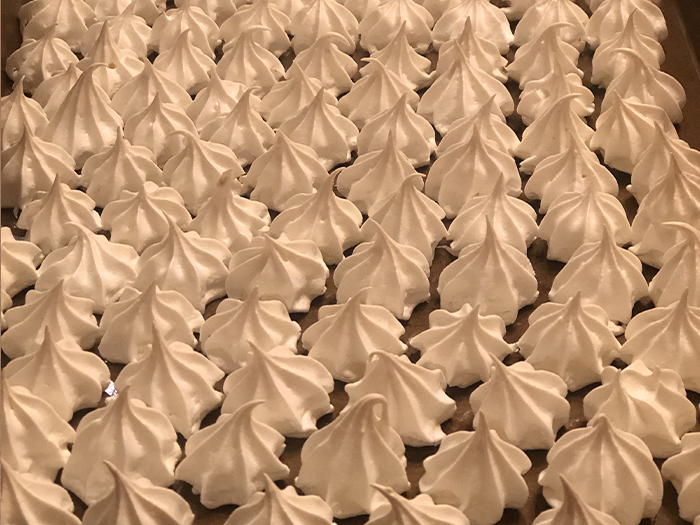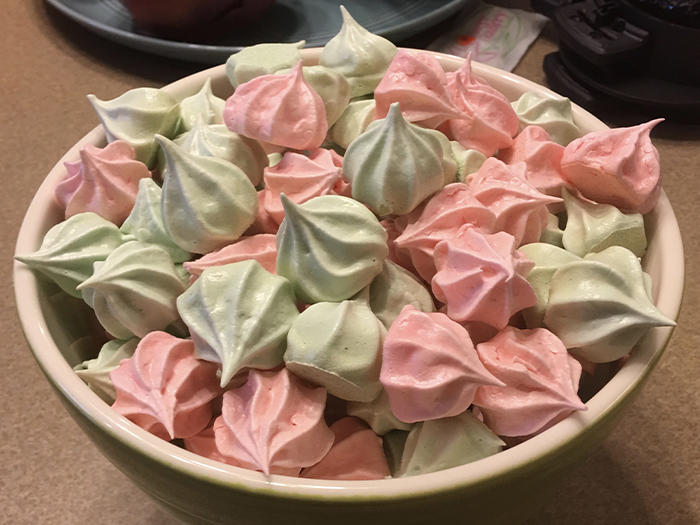 ---
Print
MERINGUE KISSES FROM "THE JOY OF COOKING"
---
Description
Cute little meringue kisses that melt in your mouth…literally.
---
1 Cup

Sugar


4

Egg Whites


1/8 teaspoon

Cream of Tartar 

1 Teaspoon

of Vanilla Extract
---
Instructions
Preheat the oven to 200 degrees. 

Separate the eggs, saving the egg yolks for something else. 

Pour the egg whites into a mixer, and add the 1/8 teaspoon of Cream 
of Tartar. 

Beat on medium high until the egg whites form a peak but aren't dry. 

Slowly add the sugar, and continue beating until you are out of sugar. 

Add the Vanilla Extract, and beat for about 10 more seconds. 

Spoon or pipe the mixture onto a lightly greased baking sheet. You can 
make fancy little kisses, or spoon little blobs. It won't matter. They will 
all be delicious. 

Place in oven, and bake for about 1 1/2 hrs. Then turn the oven off and let them sit in there overnight until they are dry.  Store in an airtight 
container. 

If stored uncovered, and they get soft, a few minutes in a 200 degree oven will dry them back out perfectly. 

To color them, stir a few drops of food coloring into them with a wooden spoon until throughly mixed. If you want more than one color, you will need to separate the meringue into separate containers before adding the food coloring.