This easy and delightful dish is from our personal cookbook, and something we've found to always make us smile at dinner.
WE'RE GONNA MAKE IT!
What I want to know is when do you think about what to make for dinner? Because for me it frequently happens on my way home, in between work and the grocery store.  I'm often tired at the end of the day, but by the time I'm halfway home and thinking about dinner I end up saying "We're gonna make it!"
This simple tomato and basil flavored chicken dish, indeed, was created in my head during the drive home and has become a family favorite
We love Israeli couscous, or pearl couscous as it is sometimes labeled. It's a small round pasta, essentially, made from semolina and water, and it's readily available in stores these days.
And just like any pasta or rice will soak up liquid in a casserole as it cooks, pearl couscous will as well! And so using the juice from canned whole tomatoes instead of the recommended water imparts a delicious tomato flavor throughout the dish that turns a simple ingredient into a savory experience.
Ingredients
What you'll need is a quick buy at the store, and you probably will have most of it at home already.
Chicken Breasts
Israeli or Pearl Couscous
Baby Spinach
A can of Whole Peeled Tomatoes
Olive Oil
Salt
Pepper
Onion
Chicken Broth
Fresh Basil
Grated Parmesan Cheese
See recipe card for quantities.
THE SECRET THAT'S NOT SO SECRET
The secret to the succulence of the chicken breasts here is due to the brining we do as a first step, while the rest of the ingredients are being prepped.
LOVE ME TENDER
Cut your chicken breasts into fours, slicing lengthwise first and then cross wise. This will give you chicken that will cook faster and be more plate manageable, and even bowl manageable, if you get my drift. Your final chicken, despite being cooked twice, will be moist and flavorful.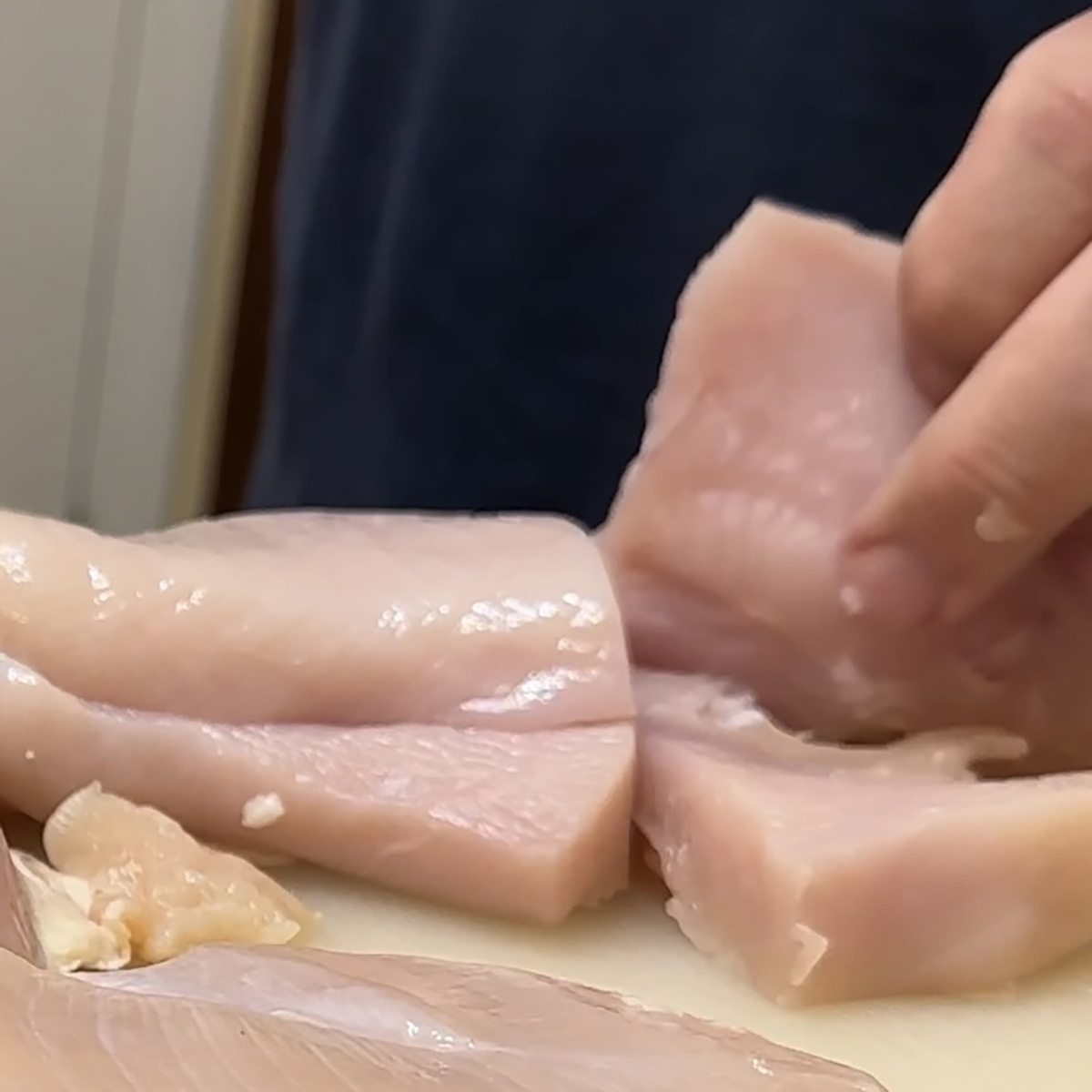 Place the chicken pieces in a gallon plastic bag filled with water, and then add ¼ cup of salt. Seal the bag, swish it all around to mix the salt up in the water, and place it in the fridge for 30 minutes to brine. This step is a needed step to keep the breasts moist, and there's no reason not to do it because you're about to spend at least half of that time cutting up some of the other ingredients.
CUT IT, DICE IT, TEAR IT, SLICE IT
While the chicken rests, dice a half an onion, and tear up a handful of fresh basil leaves. Set aside. The basil will be the last thing you use, and it gives the dish a fresh and fragrant touch that parsley just doesn't accomplish.
Rinse and de-stem about 2 cups of baby spinach leaves. I don't particularly like the stems, so I remove any of the bigger ones. I don't stress over it though. If you're grating your own parmesan cheese, which I always recommend, grate about ¼ cup at this point, and set aside with the basil.
Then open up that can of tomatoes and remove the tomatoes with a slotted spoon or your incredibly clean fingers, and place them on the cutting board. In a vain attempt to not lose too much of the juice, cut the tomatoes roughly into smaller pieces and place aside in a bowl. If you can get any of that juice that is pouring off the sides of the chopping board back into the can, do that. I tried, and made a mess on the counter.
CUPS OF THIS AND CUPS OF THAT
Pour the reserved juice into a some sort of receptacle. I use a 2 cup measuring cup, but I just recently bought one and for the previous decades of my life had to use two 1 cup versions. You should have about 1 ½ cups of liquid.
Fill another one cup measuring cup with the pearl couscous.
This is a good time to wipe up the counter and the chopping board and other things that are a mess, because you're going to have a little time on your hands now probably. The mise-en-place is important in this dish, and things come together quickly at one point.
PAT YOUR CHICKEN AND GET GOING
When your 30 minute timer goes off, remove the chicken from the refrigerator and take the pieces out, patting them dry with a paper towel. You'll want them dry because it will help them brown in the next step. Set the chicken aside on a plate.
Now that everything is together you will have something that looks like this, and you'll be ready to go.
THE COOKING PART COMMENCES
The first step is to heat some oil in a skillet on medium high heat until it begins to shimmer. Do four or so pieces at a time so that they aren't crowded in the pan. Sear the chicken on one side for about three minutes, and then the other side briefly. We want the chicken browned at least on one side, but not cooked through, because we are going to add it to the pan again later and let it simmer for 20 minutes. Set those pieces aside on a plate, and do four more, repeated until all your chicken is semi-cooked on the plate, and the pan is filled with all sorts of goodness left over from the chicken.
Pour the diced onion into the pan and saute it for a few minutes until it is transluscent. It will be a nice brown color from the juices of the chicken.
ALMOST EVERYTHING GOES IN THE POT
When it looks right to you, which is a great way to determine things when cooking, pour in the couscous and stir it around, toasting it for about 30-60 seconds, getting it coated with the oil and mixed with the onions. Then pour in the tomatoes, and the 1 ½ cups of reserved juice, adding an additional 1 ½ cups of chicken broth, one teaspoon of salt, and then stir to insure that the couscous doesn't stick to the bottom of the pan.
Immerse the chicken pieces in the simmering liquid, and add any juices that might be on the plate they were sitting on. Then throw the spinach leaves on top, stir them into the mixture, lower the heat to pretty darn low (2 on my stove), cover the pan and simmer for 20 minutes.
That gives you some more time to put things in the dishwasher and go sit down and flip through your phone for a bit. When the timer goes off, stir it once more to make sure nothing is stuck, put the cover back on the pan and remove it from the heat, letting it sit for another 20 minutes. Virtually all the liquid will soak up into the couscous during this time.
THE PART THAT MAKES YOU PROUD OF YOURSELF
Right before serving, sprinkle the parmesan cheese on top of the dish, and throw the basil around on top of that in a manner that makes you feel like you're way more elegant than you are. Well, you are now, aren't you – because look at what you just created!
Serve it with whatever vegetable you desire, but something green next to it looks delightfully beautiful on the plate.
Print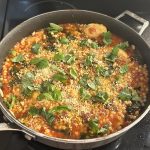 Chicken with Tomatoes, Spinach and Pearl Couscous
---
Author:

Carson Farley

Total Time:

1 hour 30 minutes

Yield:

4 Servings
Description
This easy and delightful dish is from our personal cookbook, and something we've found will always make us smile at dinner. The combination of sautéed chicken with the texture of pearl couscous makes your tongue happy.
---
4 chicken breasts halved both ways
1 cup couscous
2 cups baby spinach
1 28 ounce can whole peeled tomatoes, chopped and juice (reserved)
1 teaspoon salt
Pepper to taste
1/2 onion, chopped
1.5 cups chicken broth
Basil Leaves, torn
1/4 Cup grated Parmesan cheese
2-3 Tablespoons olive oil
---
Instructions
Slice:
    4 chicken breasts
in half, and then cut each piece in half. Place the chicken pieces in a plastic container or gallon bag, and fill about 2/3 of the way with water. 
Add:
1/4 cup of salt. 
Seal bag and put in the refrigerator for 30 minutes. Meanwhile…
Chop:
    1 half an onion, and set aside
    1 28 oz can of peeled whole tomatoes, reserving liquid. You should have 1 ½ cups of tomato juices.
Tear into small pieces, and set aside:
    1 handful of basil
    
Rinse and de-stem:
    2 cups of baby spinach
Measure and set aside:
    1 cup of pearl couscous
When the half hour timer chimes, 
Heat:
    2-3 tablespoons of olive oil
in a skillet until it begins to shimmer.
Pat the chicken pieces dry and sauté on one side over medium heat in batches of 3-4 until browned (about 3 minutes). Flip the pieces, sauté on the other side for about a minute and remove them to a plate. Continue, until all of the chicken is cooked.  You do not want the chicken cooked all the way through, as there is more cooking ahead.
Add:
    The chopped onion
to the hot pan and cook for a couple of minutes until the onion is transparent and takes on the color of the juices in the pan.
Add: 
    1 cup of couscous
and stir until coated with oil. Toast it in the pan, stirring for a minute to keep it from sticking to the bottom.
Add:
    Chopped tomatoes. and 
    1.5 cups of reserved tomato juice plus 
    1 1/2 cups of chicken broth
and stir. 
Add: 
    1 teaspoon salt, and stir to mix.
Add:
    The chicken pieces
and any juices that have accumulated on the plate back to pan. 
Add:
    2 cups spinach leaves
on top and stir them into the other ingredients. 
Cover and simmer for about 20 minutes then remove from heat and let sit covered for 20 minutes. 
Sprinkle with: 
    Parmesan and basil. 
Serve large spoonfuls on a plate, with two chicken pieces per serving, and a nice green vegetable on the side. 
Prep Time:

30 minutes

Cook Time:

1 hour
Keywords: Chicken, Dinner
Related
Looking for other recipes like this? Try these: